---
---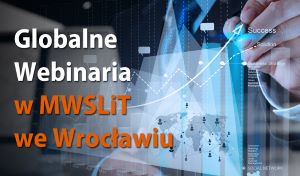 A series of Global Webinars will be held at the International University of Logistics and Transport in Wrocław.
---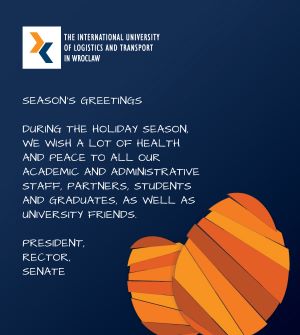 SEASON'S GREETINGS DURING THE HOLIDAY SEASON, WE WISH A LOT OF HEALTH AND PEACE TO ALL OUR ACADEMIC AND ADMINISTRATIVE STAFF, PARTNERS, STUDENTS AND GRADUATES, AS WELL AS UNIVERSITY FRIENDS PRESIDENT, RECTOR, SENATE
---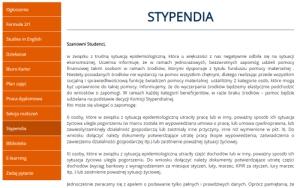 We would like to remind you about the possibility of applying for one-off, non-refundable allowances from the financial aid fund for people who have found themselves in a difficult life situation.
---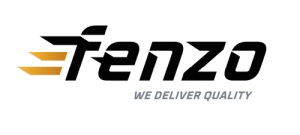 The IULT in Wrocław has signed a cooperation agreement with FENZO Sp. z o.o.
---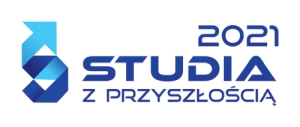 The International University of Logistics and Transport in Wrocław took part in the VI edition of the National Programme of Accreditation of Study Courses "Studies with the Future".
---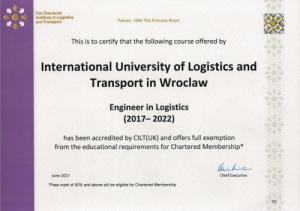 Graduates of Logistics at the IULT in Wrocław receive the CILT (UK) certificate, which confirms their skills in managing and implementing logistics projects. CILT (UK) accreditation covers Bachelor's, Engineering and Master's studies.
---

Due to the persistent epidemiological situation in Poland, the Minister of Education and Science issued a new Ordinance on the functioning of higher education and science entities in relation to preventing, counteracting and combating COVID-19.